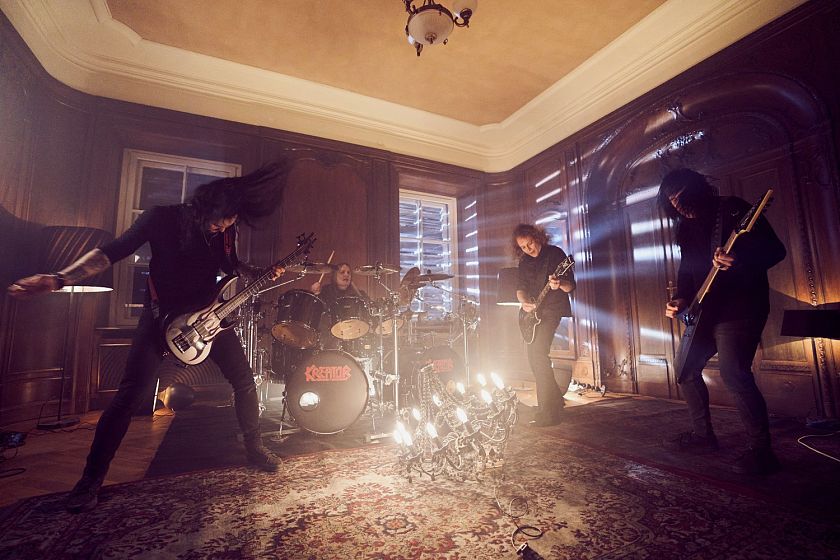 Kreator
Kreator
One thing's for sure: There aren't many bands with a history as long and eventful as KREATOR's, who fascinatingly succeed in exploring new horizons while challenging and reinventing themselves time and again, resulting in high impact results - as is perfectly illustrated by their new record Gods Of Violence. With this 14th studio album of their impressive career, the thrashers from Essen, Germany have crafted a work of art of utmost vigor, drawing its unfailing power from the pounding heart of one of the greatest, most versatile metal bands of all time. Gods Of Violence lives and breathes!
As is often the case, it all started with a good idea. KREATOR mastermind Mille Petrozza had followed the latest news with growing concern. Especially the November 2015 Paris attacks made him realize that there had to be a continuum of human malevolence, running like a thread through the ages, from ancient times up to the present day. These thoughts led Petrozza to interlocking current events with tales from Greek mythology, eventuating in the song Gods Of Violence that was consequently chosen as the album's name giver. "Currently, religion has regained a level of importance that I would have never considered possible 20 years ago," Mille states. "An extremely dangerous polarization is taking place, giving rise to growing hate among us all. That's what I wanted to write about."
Like this, a key note of the album was found that is also reflected in the sheer brutality of 'World War Now', among others. The song's deriving from the observation that we're in the middle of a World War III of sorts, but not in the way we've always feared: A-bomb dropped, humanity wiped out. "These days, our weapons of mass destruction are called hatred and religious delusion," says Petrozza. It's a vertical war, being fought by the media as well as by fanatics of all shades.
The intro leading to the opening track 'Apocalypticon' is already setting the proper bombastic pace for the album's basic idea: Marching drums and a Wagnerian choir are opening an extraordinary metal masterpiece that's contrasting brutality with fragility, excelling in an exemplary handling of momentum and dynamics. Even 'Death Becomes My Light', the final eight-minute-epic dealing with a near death experience, is not a single second too long: Gods Of Violence flashes by like greased lightning.
The ability to form universally comprehensible messages out of such sophisticated trains of thought as found on Gods Of Violence has always been one of the traits of a man whose pop-cultural universe ranges from Hannah Arendt, PINK FLOYD and TOCOTRONIC to SLAYER. Mille Petrozza was born and bred in the metal scene. Nevertheless, he is and always has been open to inspiration from various sources, which is why his lyrics on this album are by no means merely based on corny genre templates but offer trenchant observations of our time combined with a witty advance towards inflated cliches: One of the best songs on Gods Of Violence is really called 'Satan Is Real'.
Finishing Gods Of Violence took the band - featuring Petrozza, Sami Yli-Sirniö (guitars), Christian "Speesy" Giesler (bass) and Jürgen "Ventor" Reil (drums) - about three years. After Petrozza had pre-produced all of the eleven tracks in winter of 2015, KREATOR went to Sweden in order to team up with legendary metal producer Jens Bogren in his Fascination Street Studios once again. What emerged from the recording sessions was bound to fundamentally redefine what KREATOR is all about. An opus that surprises with some lines in German and an unexpected guest in the form of indie pop artist DAGOBERT. Moreover, Italian death metallers FLESHGOD APOCALYPSE lent a hand with the orchestral parts of four songs and 12-year-old Tekla-Li Wadensten played the harp for Gods Of Violence.
Although it's breaking new ground in many respects, Gods Of Violence can still be considered characteristic for a career shaped by ambitious ventures and artistic risk: discontinuity is KREATOR's one true continuum. Gotten together in 1982, Petrozza and Jürgen "Ventor" Reil - the only two remaining founding members - have come a long way from playing in a small-scale student band. "In my history book, KREATOR didn't really exist until 1985," says Petrozza, laughing. "Although we had already started jamming together in '82, we only entered the stage two or three times up until '85. Back then, our set list consisted of five original tracks and five heavy metal cover songs, we went through several line-up changes and didn't really find ourselves until »Endless Pain«."
In fact, it wasn't until said debut album that the name KREATOR was established in the first place. Before, the combo had been known as TORMENTOR. The early years were defining ones all the same: "None of us knew how to play our instruments properly back then," Petrozza remembers. "Though we were a pretty mediocre student band indeed, we taught each other how to play - it's stuff like that you bond over." This early stage laid the foundation for an exceptional career that would see KREATOR rise to become part of what's to be considered the German equivalent of the Californian Big Four (METALLICA, SLAYER, ANTHRAX, MEGADETH) of thrash metal - the Big Three of German thrash, alongside SODOM and DESTRUCTION.
It was on their third album Terrible Certainty that KREATOR would precisely define some of their most characteristic traits: Power riffing and aggressive shouting always meet a sure feeling for complex arrangements and highly memorable songwriting that is not to be taken for granted within this genre - KREATOR know their choruses better than most. An ability that makes them stand out in the international music scene as well: Over the years, KREATOR have sold more than two million albums worldwide and have played countless shows all around the globe.
Though rooted in thrash metal, they've never been afraid to push the genre's boundaries both musically and lyrically. As mentioned earlier, Mille's stylistic and ideological open-mindedness evidently manifests itself in his lyrics: Common thrash topics such as Satanism or apocalyptic visions come naturally to KREATOR. Once more, the song titles on »Gods Of Violence« speak volumes.
However, lyricist Mille Petrozza's unique feature lies in his playful approach to these tried and trusted themes: "Understanding the lyrics as an additional dimension is very important to me," he states. This includes tackling issues of both personal and universal importance. "My wildest years are behind me and there are a couple of things I would have sung about back in the days that just aren't in line with my present life anymore. You can grow older and still live a metal musician's life for sure. But you have to make sure to preserve your dignity and to not become a parody of yourself - that's walking a fine line."
KREATOR are aware of the risk a long career like theirs involves. Challenging and improving themselves, not living in the past - that's the main source of their unabated impact. Ensuring all this also bears testimony to the strong team spirit connecting all band members. Although Mille may act as KREATOR's figurehead, he affirms: "We only work as a band!" In fact, one with clear-cut functional division: Bassist "Speesy" Giesler is of great assistance when it comes to organizational matters, "Ventor" Reil brings the beat and all kinds of other stuff - and guitarist Sami Yli-Sirniö is the "musical genius," as Mille puts it. "While the rest of us are self-taught, Sami is a musician to the core, who has already played concerts in opera houses."
It all comes down to this: Mille builds the base frame which his band mates fill with their ideas and visions. "A band works like a living organism," he explains. "I'm a big fan of consistent line-ups. You've got to be honest with each other, should not avoid conflict and must be able to set your ego aside every now and then. We're a team." This concept of friendship is reflected in 'Hail To The Hordes', featuring IN EXTREMO's bagpiper Boris Peifer - Mille's very own ode to amity, so to speak. "It's a song against superficiality and for sticking together in hard times."
According to Petrozza - a cosmopolitan at heart - his sticking to the West German Ruhr area should not be interpreted as localistic commitment though. Still, the city of Essen remains the center of KREATOR's universe, where Mille is taking care of all band business to this day. "I'm a bit of a control freak," he admits with a wink. "But seriously, I don't mind doing it. Why would I want to lead a stupid rock star life anyway, snoozing until noon every day and not doing much else? I'm an active person who enjoys working. In fact, I don't even consider it work. I keep the show rolling, simple as that."