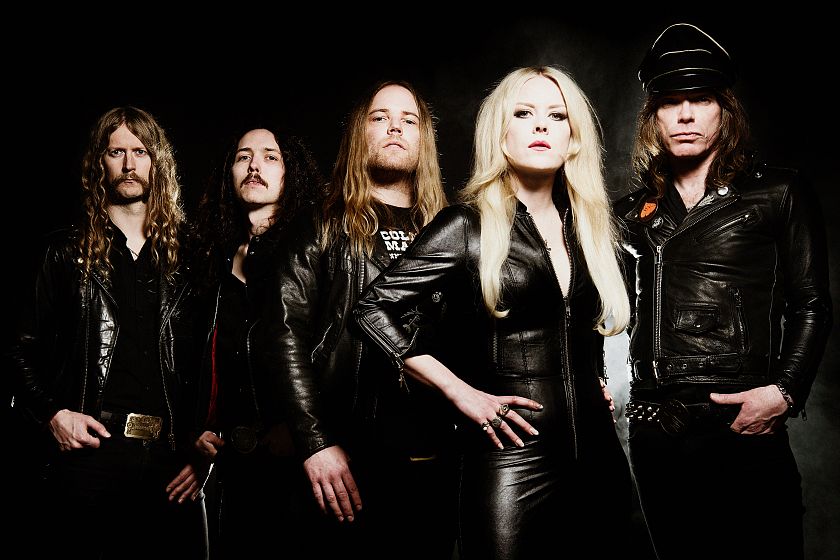 LUCIFER
LUCIFER
The multinational Heavy Rock Megalith from Stockholm LUCIFER is defined by their very heavy 1970s hard rock sound spiced with a good dose of Proto Heavy Metal and Doom Rock. Main influences include groups such as BLACK SABBATH, PENTAGRAM, BLUE ÖYSTER CULT, 70's HEART & FLEETWOOD MAC.

With nearly 200 shows under their belt Lucifer has toured the US, Canada, Japan and Europe multiple times and played renowned international festivals like The KISS Kruise, Psycho Las Vegas, Hellfest, MetalDays, Sweden Rock, Desertfest, the long standing German cult TV program Rockapalast twice, to name only but a few.

Founded in 2014 in Berlin by The Oath front woman Johanna Sadonis, the group first consisted of CATHEDRAL, ANGEL WITCH and LADYTRON members. The debut album 'Lucifer I', penned by Johanna and CATHEDRALS's Garry Jennings and released by British label Rise Above Records, brought LUCIFER international recognition.

With a shift of constellation within the band in 2016 and Johanna Sadonis' move from Berlin to Stockholm, LUCIFER were ready for chapter two. In Nicke Andersson, notable for his groups THE HELLACOPTERS, ENTOMBED, IMPERIAL STATE ELECTRIC, DEATH BREATH among others, Johanna found a new renowned writing partner. Now signed to Century Media/Sony Music, Johanna and Nicke wrote and produced the albums 'Lucifer II' and 'Lucifer III' at Nicke's studio The Honk Palace in Stockholm which both jolted LUCIFER into the Swedish, German, British and American charts and earned them several nominations such as Best Hard Rock/Metal album by renowned Swedish Radio Price P3, Hard Rock/Metal act of the year by Gaffa Price as well as a Swedish Grammy in the category Hard Rock/Metal. In between albums LUCIFER has released multiple outstanding stand-alone singles that have quickly become sought after collectors items. Relentless touring and recording has turned LUCIFER into an explosive live beast and a reliable source of timeless rock and roll.

LUCIFER wasted no time and used the pandemic to record yet another long player that rings in a new chapter and dives even further into the grande realms of colossal old fashioned rock, with a severe morbid twist. For this opus they entered guitarist Linus Björklund's Studio Ryssviken for an even more heart pounding drum sound while continuing their work at The Honk Palace. This time LUCIFER has expanded their song writing partnership within the band and Johanna has not only penned the new material with Nicke but also with guitarist Linus, as well as guitarist Martin Nordin contributing. With 'Lucifer IV' the group is proving furthermore to be steadily building their very own pillar of rock history, brick by brick. The first single to give you a glimpse of what's to come is 'Wild Hearses' - buckle up for a deliciously morbid sweet and heavy ride past tombs and churches!

'Lucifer IV' is set to be released Halloween 2021 on Century Media Records/Sony Music.